Overview
CivicClerk site administrators can choose to turn on a Public Comment form in the Citizen Portal. CivicClerk site administrators will have a text field to enter instructions to the citizens that will show up on the Citizen Portal, will specify an email address for the citizen comments to be submitted to, and will enable a new tab to show up in the Citizen Portal called Public Comments. Once the tab is turned on, citizens will be able to click the blue Meeting link, navigate to the new Public Comments tab, and fill out an online form and submit comments for a particular agenda to an email address specified by the CivicClerk site administrator. The email that the CivicClerk site administrator will receive will contain a link to the specific meeting the citizen wishes to comment on.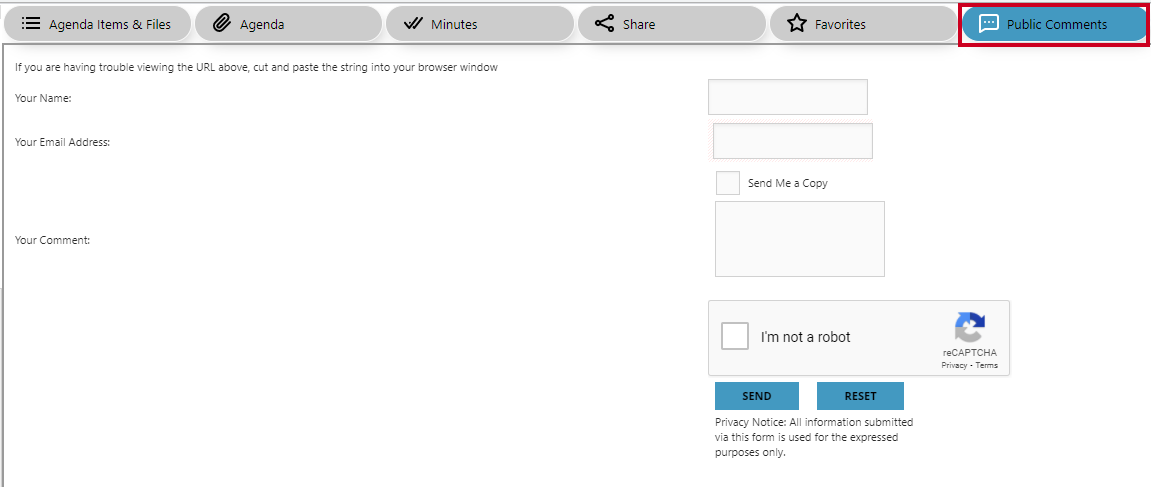 Instructions
To turn on the public comment tab in Citizen Portal, an administrator will need to go to Profile > Settings

Click Events & Public Portal

Click Portal Settings

Scroll down to Public Comments and insert one email into the Public Comments Email field



Note: This will be the email address that you want citizen's emails to be routed to.

If desired, enter Public Comments Instructions to appear in the Citizen Portal explaining instructions or communicating other information to citizens

Scroll to the top of the page and click Save Changes



Note: Once you click Save Changes, the tab will be active in the Citizen Portal automatically.
Email Receipt Examples
If a user submits an email without entering their name (anonymous user):

If the user submits an email and enters their name: