The Analytics module allows you to build, save, and export custom ad hoc reports with your data in CivicClerk, now our Select Agenda and Meeting Management solution. You will have access to prebuilt reports in the module to get you started.
Article Navigation
Views
In the Analytics module, the main data display is called a View. Upon the first login, you will see a generic preset default view.
There are three different view types:
My Saved Views: Views created by you and saved under "My Saved Views."
Organization Views: Views created by a user within your organization and shared with other users in your organization.
Standard Views: Views prebuilt by CivicPlus and loaded into every system.
To access a different view, you will navigate to the Views drop-down menu in the upper left of the module and select from either My Saved Views, Organization Views, or Standard Views.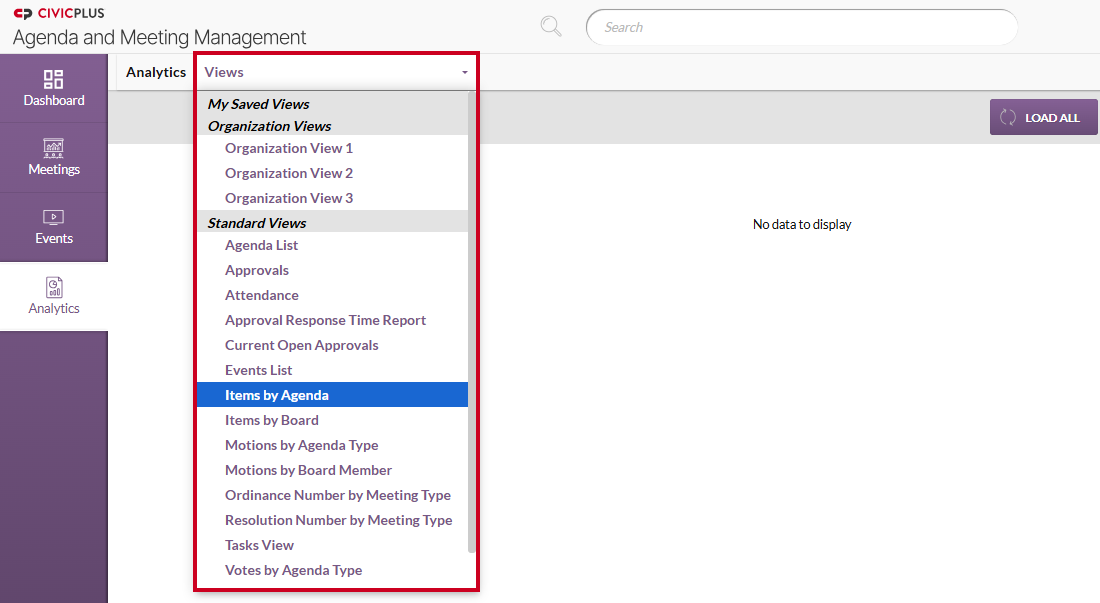 Edit a View
If you wish to change the data shown within a currently selected View, you can use the Data Fields and Filters.

Data Fields
The Data Fields pop-up allows you to add or remove data fields from the current view. Note that there will be one default field within each view category that cannot be removed from the view. This is to prevent a view from populating with null data.
Data Fields can be selected from multiple modules (for example, from Agendas and Events). Check the checkbox to add a field and add the data to the view. Uncheck the box to remove the field from the view.
Filters
You can also use filters to narrow down the information shown in the view. Filters can be applied to each data field that has been selected.

You will first select the Data Field you want to work with, then add the appropriate condition to the field. When all filters have been added, you will need to click Apply to save the changes. Reset Filters will wipe out all filtering that has been applied.
Save Changes to a View
If you would like to save the data and filter changes, you can click Save View and access it again through the Views drop-down.
You can rename the view and determine whether the view should be only accessible only to you or whether it should be shared with your organization. This allows you to Create Custom Views (visible only to you) and Organization Views that can be shared with everyone in your organization.
You can also select the checkbox My Default View to have your personalized custom view appear as the default view for the Analytics Module.
Manage a Custom View
To make changes to a custom view at any time, select the view from the Custom Views dropdown and click Manage View.
This will allow you to make Data Field and Filter changes as well as rename or delete the View.
Export a View
To export the data from a selected View as a .xlsx or a .csv file, click the Export View button.